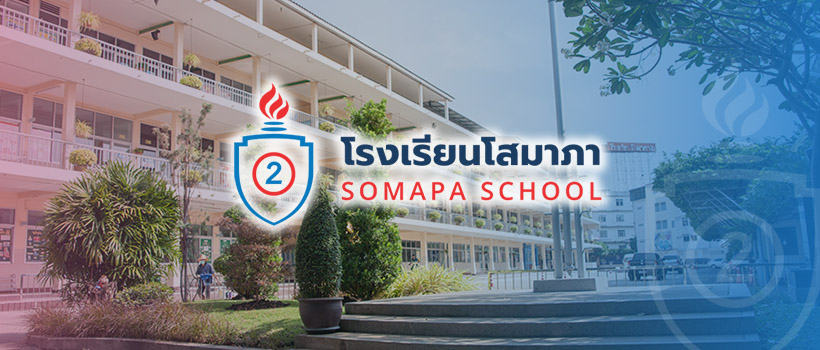 Somapa School is a renowned private school in the 'General Education' system, and under the supervision of the Office of the Private Education Commission (OPEC). The school opens for enrolment from preschool to grade 6.
The school is established by Lieutenant Colonel Somphong Somapa and has been in operation since 1981. The school is located on an area of 5 rai at 50/141-142 Moo 5 Nawamin Road, Nawamin, Bueng Kum, Bangkok 10240 tel. 0-2734-8856 (automatic) fax 0-2377-7232.
The school is managed by experienced teachers, administrators, and educational personnel who adhere to the principles of continuous development and view the interests of students and society as our priority. In addition, we aim to provide leading age-appropriate learning courses that are in lined with the 21st century learning skills development to groom our students to become quality individuals who give back to the society.
We are an educational institution located in an urban environment that have been trusted by parents in Bueng Kum and nearby districts in terms of providing high-quality learning process, educating morals and ethics to the youths, and emphasizing on the development of each child according to his/her individual skillsets. Moreover, the school is equipped with technology and facilities to enhance the learning experience including library, operating room, art room, dance room, Thai and international music room, ethic room, scientific lab, computer room and high-speed internet. Furthermore, the students will be learning in a clean and sylvan environment, and amenities ready to service parents and visitors every day even on public holidays.
The philosophy of the school consists of
"Great education

Prominence on morality

Caring for the environment

Outstanding Technology

Excellent health and wellbeing

Ready for the world ahead
Great education refers to our teaching method which encourages our students to initiate new ideas, be ambitious and pursue academic training both inside and outside the curriculum. This will equip students with knowledge and abilities to solve problems systematically and inspire them to become a lifelong learning enthusiast.
Outstanding technology refers to the integration of innovations and technologies to effectively develop our teaching and learning environment to educate our students to become modern progressive thinkers who know how to use technology effectively. In addition, we use technology to support the administration and development of the school, prioritizing on the learning effectiveness of our students.
Prominence on morality means promoting and supporting activities that contributes to the development of good morals and ethics and educating our students to become a person with high sense of social responsibility and behave appropriately. This also includes training and teaching our students to be healthy, both physical and mental, so they can live harmoniously within the society.
Excellent health and wellbeing refer to the developments of our activities/projects/work and sports to offer our students the opportunity to participate in activities that enhance self-confidence, strengthen leadership skills, and increase responsibilities both to oneself and the society. Likewise, our interactive learning activities will encourage students to use their free time productively, inspire them to become better in fields that match with their abilities and personal interests and most importantly, prevent them from drugs and illegal substances.
Caring for the environment refers to preserving Thai identity, arts, culture, and traditions along with preserving energy and natural resources. We have created a sylvan atmosphere inside and around the school to reduce pollution, and we will educate our students to use the available resources to generate maximum benefit to the society, which is a lesson that they can apply to their daily lives.
Ready for the world ahead refers to projects/activities/tasks that our teachers have developed to teach and encourage our students to learn from real life experience and try to apply the knowledge and experiences obtained from both internally and externally to their daily lives to develop the Thai society for everyone to live harmoniously.
The school?s symbol
White represents pure, clean, and free of guilt which is a status one can obtain from getting a proper education.
Blue represents love, unity, stability, sacrifice, justice, and gratitude to the ones who support you.
Pradu is a perennial plant that when it blooms, the whole tree blooms simultaneously. It also has a faint fragrance spreading around its branches and when its flowers fall, they fall simultaneously. Therefore, Pradu symbolizes the shared intention, love, and unity. Similarly, it signifies our teachers and staff who are determined to work together to educate and train the youths to prosper and become a valuable asset to the society.